Dr. Deane Waldman brings clarity, understanding and a workable solution to our sick U.S. healthcare system

Dr. Waldman's new
eye-opening book lays bare the disaster that has befallen both patients and doctors over the last 50 years due to government and administrative involvement into health care. Today close to 50% of healthcare spending goes NOT to doctors to pay for care, but to administrators who manage the miles of red tape introduced by ever increasing number of government regulations.
About Dr. Deane: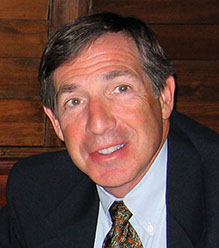 Dr. Deane Waldman was Chief of Pediatric Cardiology at: the Children's Hospital of San Diego, the University of Chicago, and the University of New Mexico. Responsible for budgets in excess of $20 million, he has seen all aspects of our floundering medical care system. His proposal for a simple Direct-Pay USA system has the potential to revolutionize health care in the U.S. and save us from imminent financial catastrophe.
Interviews with Dr. Deane Waldman
Click to listen to selected radio interviews with Dr. Deane:
Pat Miller Show, December 3, 2015
Pat Miller of NewsTalk Radio, 1190 WOWO 92.3AM in Fort Wayne, Indiana, discussed the release of Dr. Deane's new book, The Cancer in the American Healthcare System, which includes what Dr. Deane calls "The Cure" for American healthcare.
Bob Clark Show, June 6, 2015
Bob Clark of 770AM KKOB in Albuquerque interviewed Dr. Deane about the latest developments in the ever-changing landscape of American healthcare.
The Stinchfield Report, March 2, 2015
Grant Stinchfield of KLIF 570AM covering the Dallas/Fort Worth Metroplex interviewed Dr. Deane about the problems people are experiencing with the Affordable Care Act.
The Scott Steigler Show, February 25, 2015
Scott Steigler of KKOB 770AM discussed Obamacare with Dr. Deane followed by audience call-in questions.
New Mexico Liberty Hour, October 25, 2014
Rob Nikolewski of Albuquerque interviewed Dr. Deane for an hour on KKOB 770AM, discussing Obamacare, with special focus on Open Enrollment and future plans for outreach.
Bob Clark Show, October 3, 2014
Bob Clark of 770AM KKOB in Albuquerque discussed the ongoing failure of our healthcare system with Dr. Deane and then the call-in audience.
Bob Clark Show, January 14, 2014
Bob Clark of 770AM KKOB of Albuquerque discussed the implementation of Obamacare, which started on January 1, 2014. After Dr. Deane explained, Bob and Dr. Deane answered call-in questions.
Mailing address:
ADM Consulting & Books
PO Box 37396
Albuquerque, New Mexico 87176-7396
Copyright © 2015-2016 ADM Consulting & Books. All Rights Reserved. All other trademarks on this site are the property of their respective owners. Site design and maintenance by www.DesignStrategies.com.